About renting of event venues and media spaces
Outdoor media
■ Banner
60 banners (120 front and back) installed along the 250m long facade facing OMOTESANDO HILLS. Because it is an advertisement that hits the front of the sidewalk, the visibility is very high, and 60 consecutive notices can be used to send a powerful visual message. Also, by linking the banner and the board, you can expect a further advertising effect for passers-by of Omotesando.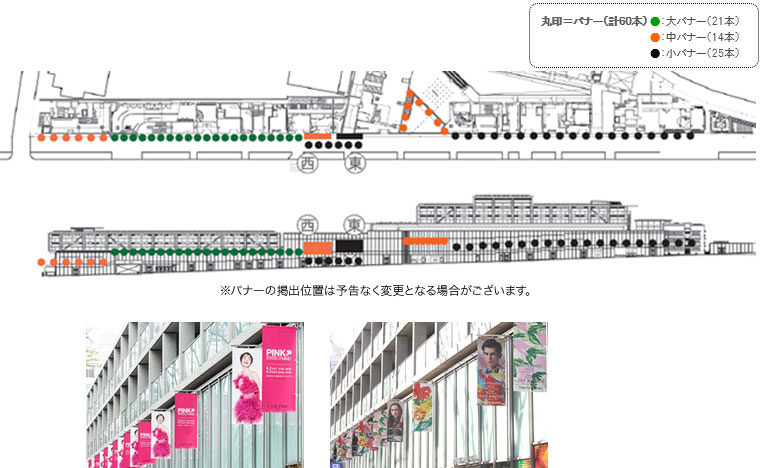 ■ Board
An iconic medium in a location facing Omotesando where the pedestrian traffic is constant throughout the year. 10.15 m × 4.45 m (about 45 m2) Is the largest size for OMOTESANDO HILLS Media. This is a bulletin board that can emphasize the impact and presence.

■ Entrance media ※ upper banner is not included.
Space media at the front entrance of OMOTESANDO HILLS.
It is a space that shows overwhelming message and presence to passerby of Omotesando who goes on a daily basis. It can be used for promotional purposes such as exhibition, demonstration, touch and try.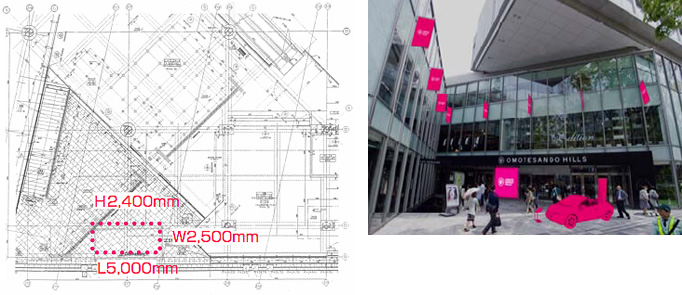 ■ Aoyama entrance glass surface
Entrance located on the Aoyama side of OMOTESANDO HILLS. The glass wall facing the busy Omotesando and at the level of the line of sight surely captures the line of sight of passers-by.
Visual emerges in the evening due to the light up of the interior.

■ WEST WING
OMOTESANDO HILLS This is a media with excellent visibility for the sidewalk in front, especially for passers-by from Harajuku and Meiji Jingu. Since there are no outdoor advertising signs in the vicinity, it is a very unique medium that has low noise and is easily noticed by passers-by.

■ Large LED monitor
The only one of OMOTESANDO HILLS is a 133-inch large-screen device that faces "Omotesando Street and is located outdoors." OMOTESANDO HILLS It is a very popular monitor as a symbolic image vision that represents.