We had the pleasure of speaking with Mr. Tadao Ando despite his very busy schedule. After finishing our shoot at tremendous speed, he was headed straight to his Osaka headquarters by bullet train. Mr. Ando jumped in a taxi and I went with him to Tokyo station to continue our one-on-one interview. We are very grateful that we could have the interview in the car.​ ​
If joint efforts are lost, it is the end of architecture.​ ​
I think it is that important (Ando)​ ​
If you lose community,
it is the end of architecture.​ ​
I think it is that important (Ando)​ ​
Tadao Ando:​ ​Shall we proceed? Can we continue a bit further?​ ​
Em, well, a little more would be fine (laughs)! Do you like Omotesando, the city itself?​ ​
Tadao Ando:​ ​Because in the 60's and 70's I often went to a gallery located in Dojunkai. At that time, it was an area of steep paths and narrow back-streets, it is the place where Omotesando Hills is now located. Now, there are also quite a few foreigners there, and people come and go along its gentle slopes around the buildings as they shop. It is quite wonderful.​ ​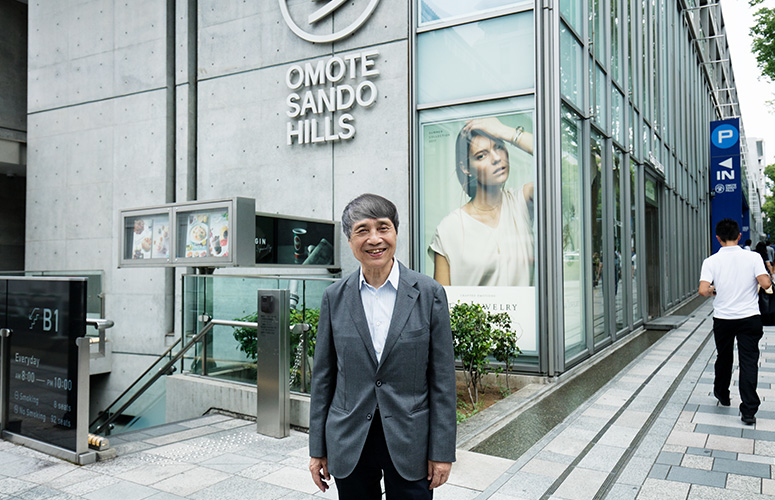 Aside from Omotesando Hills, you have been building some rather large-scale buildings. You design large buildings which change the cityscape. Do you feel that this aspect of the business of architecture is foreboding?​ ​
Tadao Ando:​ ​You only think about things up to the point they are not scary. How will the city be after that building is finished? I listen to the building owners, the landowners and I also ponder it myself.​ ​
What is it that it is important for creating a good building?​ ​
Tadao Ando:​ ​The Kanagawa prefecture government building by Kenzo Tange, which was completed in 1958, is often talked about. Until then, government buildings were not places that ordinary people entered. Perhaps Mr. Tange thought that "Buildings must be a place of community". He created buildings that anyone could enter; free buildings. Mr. Tange's capacity for creativity is beyond doubt, but the building was realized because the governor at the time, Masanori Kaneko, sufficiently understood the concept. A building cannot be made without a balance between 4 types of people; the architect, the building owners, the people constructing it and the people using it. This is the reason why Omotesando Hills was so successful.​ ​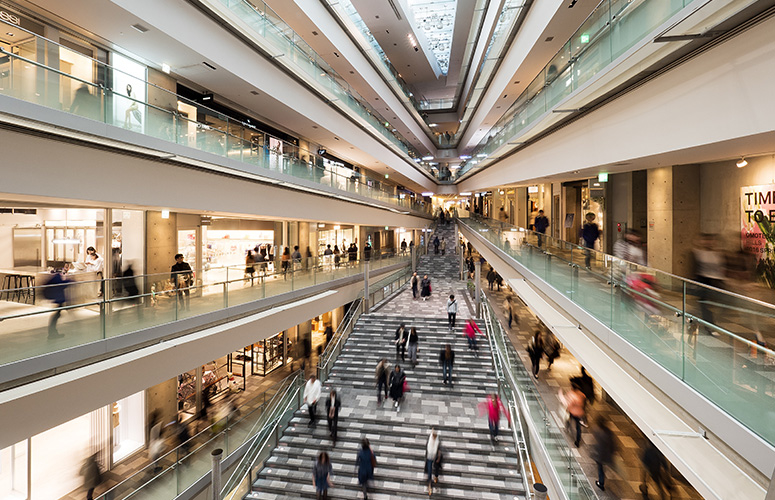 ---- 先ほどから"公共性"というキーワードがよく出てきますね。
Tadao Ando:​ ​Yes, although there are many types of community, the community of buildings is to nurture what is already there. Community is creating a place where people can assemble. In a commercial facility, community is linked to going once and then creating an atmosphere that entices a return visit. It's being able to create the feeling of excitement in a place for assembly itself. The central colonnade in Omotesando Hills can be used in variety of ways. It is an enjoyable place for people to gather. That is community. Community can be made by the architect, and the people using it can devise ways to nurture it. But if we lose community, then that will be the end of architecture. I think that it is that important.
Discussion of Architecture With Tadao Ando vol.1
Discussion of Architecture With Tadao Ando Vol. 3​ ​
Featured related articles
Hills Life Daily "Ando Tadao's Challenge Continues - The National Art Center (~ 12/18)"