'PechaKucha Night' will be held in Space O on the third floor of Omotesando Hills as the special opening event of 'DESIGNART 2017' on Monday, October 16. The event was launched in Tokyo and held in over 1000 cities around the world, as a space for exchanging information by various people. It involves presentations in which 20 slides are shown for 20 seconds per slide. Eight presenters from various fields around the world are scheduled to present on this occasion. We asked the duo behind 'PechaKucha Night'- Klein-Dytham Architecture- about its appeal.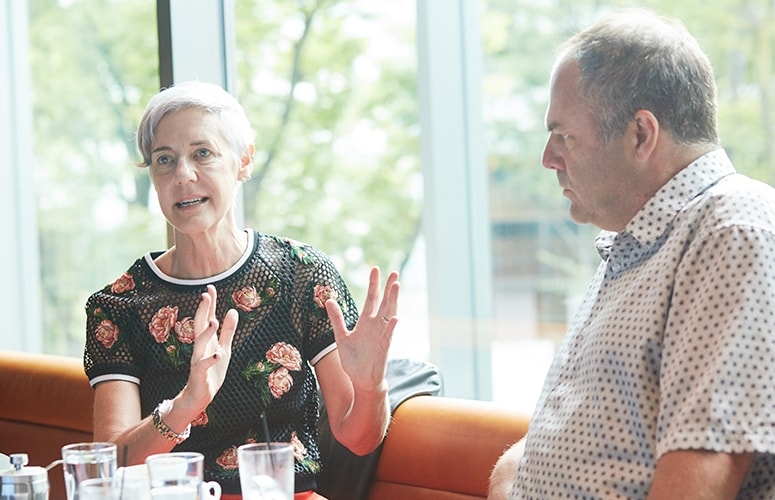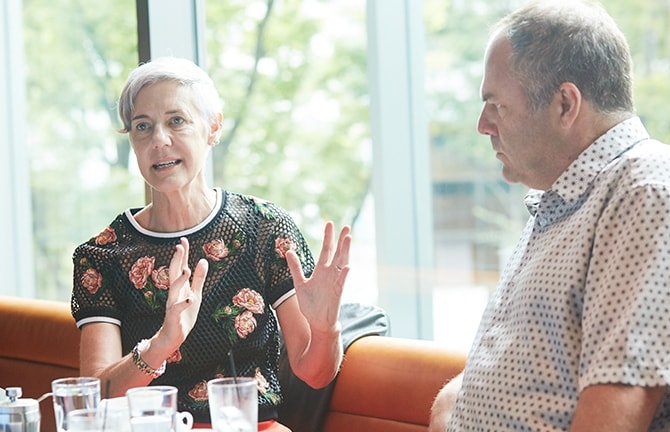 ---- This year sees the 14th PechaKucha Night, which began in 2003. It is held in over 1000 cities around the world now, but why did you launch this kind of event originally?
Klein:The very first was that I do all kinds of things, and when friends asked what I was doing recently, I didn't quite have time to explain. So the catalyst was that I wondered about gathering people together to explain. Moreover, in the early 2000s digital cameras began to become popular, and it became possible to casually share photos taken at construction sites. We could show photos on a large screen, and exchange various opinions while viewing them.
Dytham:However, one problem was that architects like to talk. Like me [laughs]. So, we created the '20x20' rule. 20 slides are used, with each slide presented for 20 seconds. This was how PechaKucha Night began. At the start, many of the presenters were architects. We thought it would be more interesting with a mix of different ideas, so we asked artists, graphic designers and product designers to participate as well. It spread around the world spontaneously.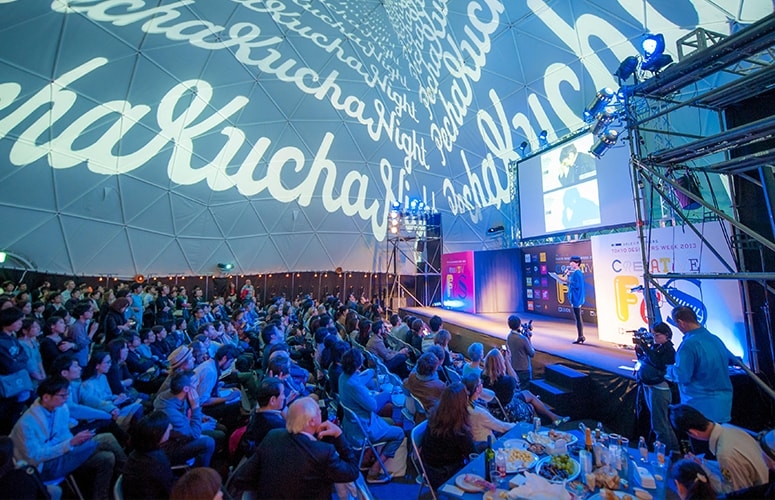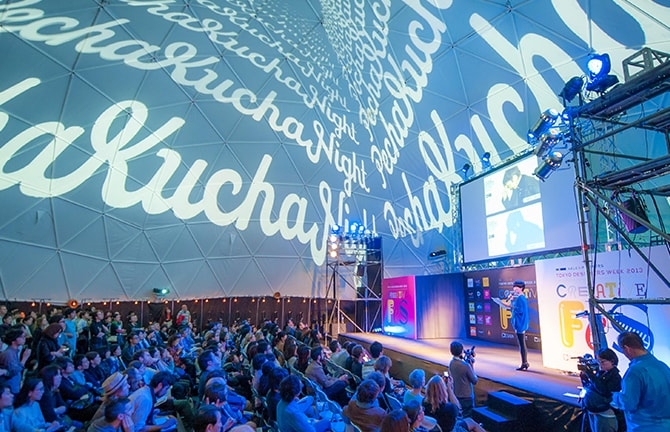 ---- Have there been things you are glad you did, profoundly memorable events related to PechaKucha Night?
Klein:Many good things, every day! For example, an organizer in a town in the Czech Republic was very charismatic. He was able to interact with all kinds of people through the event, and then was chosen as the mayor of that town. I've heard lots of happy stories about people getting married after meeting at the event, children being born, etc.
Dytham:There are various organizers in each of the cities where PechaKucha Night is held, and we get emails about their impressions every day. I'm glad to say those are also full of really positive things. They tell us of new discoveries such as 'I didn't know there were such interesting people in the town where I live!' It can also play a role in revitalizing towns, depending on the area. The appeal of an event like this is that it's a place where all kinds of people interact, which generates a positive mood and broadens creative networks.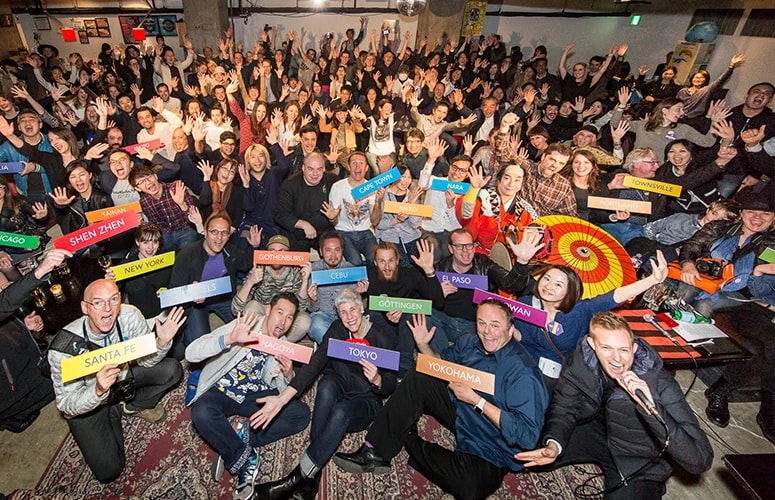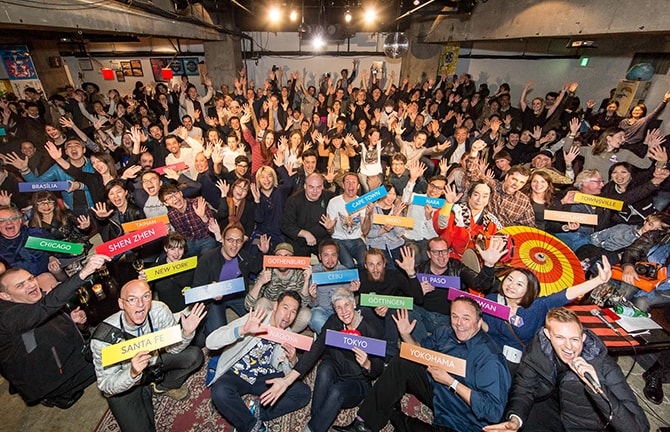 ---- Fashion Week and DESIGNART are being held at the same time. What do you think about the fusion of art and fashion?
Klein:Fashion and design are very close to each other. Mark and I studied architecture in London. There was a fashion design department on the floor above, and I often felt that there were design links between fashion and design. The DESIGNART event concept began from the idea of enjoying design and art with the sense of walking at your own pace. For example, it's interesting to be able to represent a crossover, such as showing design in fashion stores, and fashion in design stores. It's an opportunity to go to places one doesn't go to ordinarily. I think it's great to really go beyond our own categories.
---- What do you think is needed in Tokyo and Japan in future, as we head towards the Tokyo Olympics?
Klein:Japan has a rich cultural history, and I'd like to express that to people properly. For example, I think there should be a special museum in Tokyo for Japanese fashion and design.
Dytham:Also, manga (comic) culture is interesting isn't it? I think plans are required more than ever to express the appeal of that unique culture, in order to create world-class tourist attractions. I think there will be many opportunities to realize that, including the Olympics.
Klein:I've visited all kinds of cities around the world, but as expected Tokyo is the best. For that reason I want to better express the attractions of Japan and Tokyo, to make it an even better city.
Dytham:The rule of PechaKucha Night is 20x20 (20 slides presented for 20 seconds each), and Tokyo Olympics is in 2020, isn't it. What an opportunity! I'd like to gather fascinating presenters from all around the world and hold a global meeting! Of course I'd like to use the Olympic stadium at the time!
<Profile> Klein Dytham Architecture
アストリッド・クラインとマーク・ダイサムによって1991年に東京に設立。建築、インテリア、公共施設といった複数の分野のデザインを手掛けるマルチリンガルオフィス。主な作品に「DAIKANYAMA T-SITE/代官山 蔦屋書店」、「GINZA PLACE」、「OPEN HOUSE Central Embassy」、「Gallery TOTO」などがある。またAmerican Retail Environment Awards、D&AD Awards、World Architecture Festival Awards等を受賞。現在、世界1000以上の都市で開催されている世界規模のプレゼンテーションイベント、「PechaKucha Night」の創始者でもある。
DESIGNART 2017 Opening Special Event
PechaKucha Night is the opening special event of DESIGNART 2017, held simultaneously with Amazon Fashion Week TOKYO 2018 S/S from Monday, October 16 to Sunday, October 22 with Omotesando Hills as one of the main venues.
PechaKucha Night was launched in Tokyo and held in over 1000 cities around the world. It involves presentations in which 20 slides are shown for 20 seconds each slide. Eight presenters from various fields around the world are scheduled to present on this occasion.
Omotesando Hills Hall 3rd Floor Space O
17:00 to 17:20 Opening Ceremony
17:30 to 19:15 PechaKucha Night
19:15 to 21:00 Session
No charge※ドリンク&フードチケット:1枚1,000円(税込)(500円×2)
No charge※ドリンク&フードチケット:1枚1,000円(税込)(500円×2)