The "ADASTRIA Bijo Saishu" solo exhibition by Asami Kiyokawa was held at the Space-O event area of Omotesando Hills during the Golden Week this year, from Friday, April to Sunday, May 27.
今年で15周年を迎える「美女採集」は女優やモデル、ミュージシャンなど、社会で活躍する「輝きを放つ女性」を撮影し、その人の内面や本質を動植物が持つ習性に見立て、写真に刺繍をすることで"採集"するシリーズです。
"Bijo Saishu" is a lifetime project for Kiyokawa, and this exhibition was the first time in six years for the "Bijo Saishu" event to be held at the same venue. Below is our interview with the artist about her thoughts on the exhibition that was held this time and its production.
---- We understand that you are going into your fifteenth year of work now since the "Bijo Saishu" project began. What prompted you to begin this project?​ ​
Kiyokawa :​ ​From when I was 19 years old, I worked as a reader model. The world within this job might seem from the outside to be glamorous, but the fact is that many of these women have worries and psychological hangups. Being a woman as well, I caught glimpses of what they were feeling inside. I felt that the deep psychology possessed by women, who are living beings, was a strong enough subject on its own to use in creating works of art. When I began these works, I had just started embroidering the photos with string, and I got a sense of what could be expressed about that person's inner world and began gathering people together to participate in this. ​ ​​ ​​ ​​ ​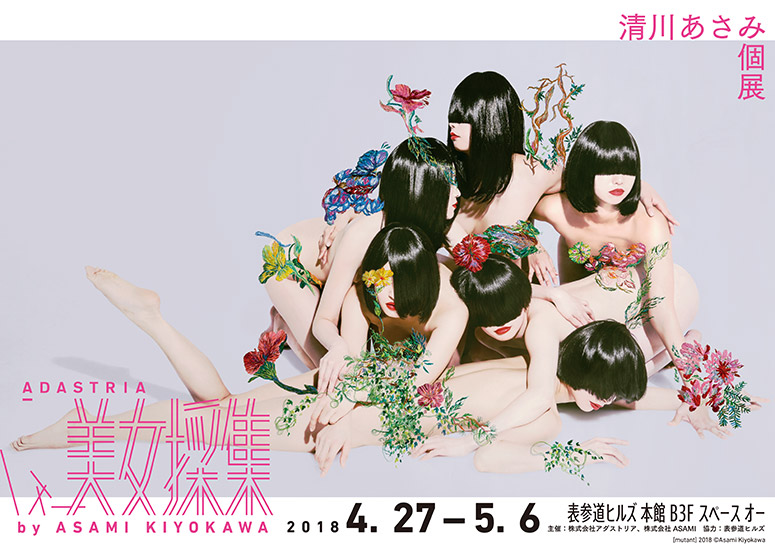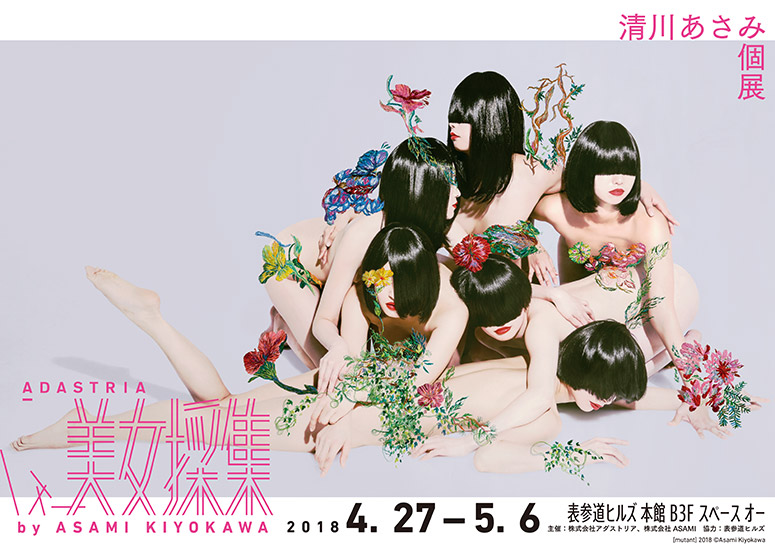 ---- This is the 15th anniversary of your series. What kind of exhibit will this be?
Kiyokawa :​ ​I think that it's about now that we can see the origin of what has been going on for the past 15 years with "Bijo Saishu." At the same time, the "Bisaiju" series is starting off with the June issue of "SPRiNG" magazine. I believe that this is a time of diversity, not just for women but also for those who see the attractiveness in diversity as a way of life. In other words, it's an updated version of "Bijo Saishu," and I want everyone to see how things have changed. Specifically, we will be showing more than 100 works from past to present all at once, starting with the latest "Bijo Saishu" works and a newly-released series.
---- 最新作「美女採集」では、今もっとも気になる4名として、コムアイ(水曜日のカンパネラ)さん、菅原小春さん、ゆりやんレトリィバァさん、和田アキ子さんを"採集"されたそうですね。
Kiyokawa :​ ​In my "Bijo Saishu" series, my desire is to turn unseen shadow-like elements into works of art. These shadows in turn become energy. When I considered who might have an undefeatable sense of strength and individuality in terms of character, it was these four people that I asked for help. I want to know why they shine, and analyze them in a positive way. It's interesting how everyone has their own unique reasons as to why they shine. That's probably why I've been able to continue this series for as long as I have.
---- You gathered many individualistic women from different age groups. What kind of inspiration did you gain from them?
Kiyokawa :​ ​As for KOM_I, she has a neutral character, so I depicted her as an anemone flower, blossomed from the blood of the beautiful young Adonis from Greek mythology who was murdered in jealousy. The anemone flower got its name from the word "anemos," or "wind" in Greek. KOM_I lives the life of a traveler looking for love, and that's why I think she creates the work she does. When I photographed KOM_I, she threw herself into the role, telling me that "I'll put my heart and soul into being a model," and so I used this to freely create the work.​ ​
As for Koharu Sugawara, I depicted her as the Raggiana bird-of-paradise with its wings spread open in courtship, the lovely figure of which you can find on the flag of Papua New Guinea. Sugawara is always busy moving around no matter what, so it was hard to pin her down (laughs). It was a miracle that I could even get her to come in for this.​ ​
As for Yuriyan, she is a woman of many talents and is also a delicate human being who is very adaptable to her environment. That is why I overlaid her photo with a veiled chameleon, which is said to be the most herbivorous of all chameleons. Yuriyan is extremely popular, so it was again a miracle that she had the time to do this (laughs). Yuriyan is really a professional, in that she's always trying to gain a full understanding of things and see whether they're funny or not, whether they can be used as jokes in her trade. ​ ​​ ​​ ​​ ​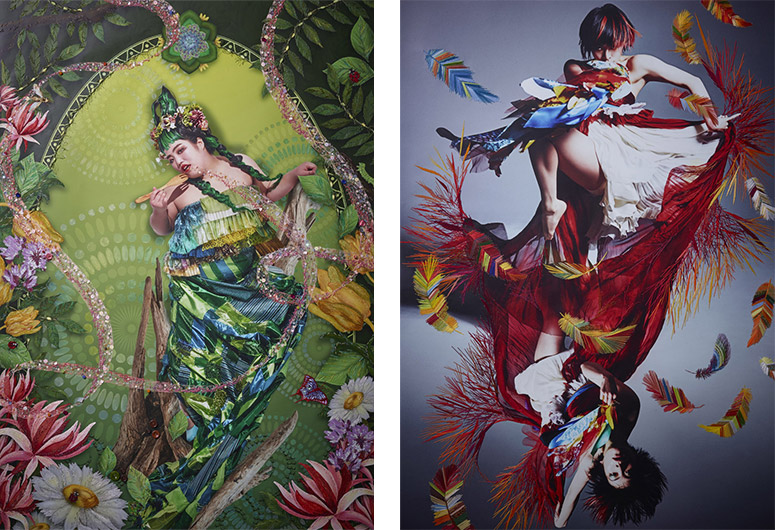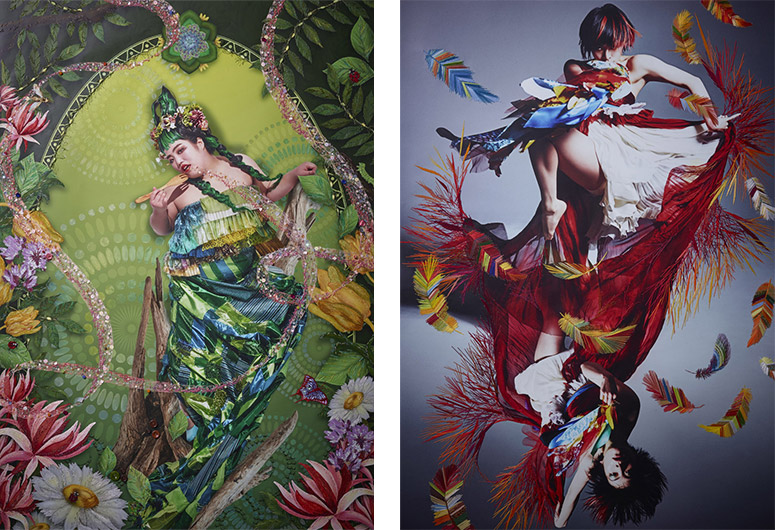 Kiyokawa :​ ​Akiko Wada has walked along the cutting edge of the entertainment industry for over 50 years, and has survived what we might call the "Ice Age" of her time. I feel that she possesses a spirit of maternity, like the mother of the earth. While Wada has a dynamic presence, I've always been enamored of how you can see her feminine and delicate aspects from time to time. For her, I chose the woolly mammoth. By looking at the work, you can see how she really understood what I was trying to portray, and how she graciously agreed to being photographed. The session went very quickly, and it was great fun to hear her talk.​ ​
We also photographed the making of this piece in its entirety, and will be showing this at the venue, so I encourage you to come see it!​ ​
---- We understand that you have also gathered "ordinary" people as subjects for your work this time.
Kiyokawa :​ ​We selected just three people out of 15,000 employees in the women's fashion company Adastria through auditions for this. Using the same concept as before, we selected people who had worries (in a good way) or some kind of "shadow" hanging over them, who gave the impression that they would enjoy a "transformation" through my art. It takes a really long time to finish each work in the "Bijo Saishu" series. I create the costumes for each person from scratch on the spot, and I do all of the direction, photography and CG effects, and finally the embroidery after the photo is finished. You really have to take a liking to the person you're photographing, and I think I've transformed each one into something really nice. It was so cute when one of my subjects gleefully told me, "I'd like to use this as a photo to show my future husband."
The "ADASTRIA Bijo Saishu" solo exhibition by Asami Kiyokawa details from here