---- The director of mikomori, Kozue Anzai and the director of styling/, Kei Shirahata both have shops in Omotesando Hills, located on the B2 and B1 floors of the main building respectively. What these two in common have is their work as popular stylists, followed by their respective launches as directors of their own ladies fashion brands. The two directors paired up this time with their announcement of a collaboration-design swimsuit.
To commemorate the release of this special item, the design of which features the feminine design of mikomori with the mannish urban essence added by styling/, we held an in-store talk event at Omotesando Hills.


Kei Shirahata (hereafter "Shirahata") :​ ​Although Kozue and I usually work with the same kind of media, we don't have many opportunities to work together. That's why we decided to do something together this time, and we thought up the swimsuit collaboration idea with mikomori and styling/. I decided to do one of mikomori's one-piece outfits in khaki color, as they are usually sold in black and white. Since we're releasing sporty, masculine-looking designs at styling/ this season, for the swimsuit we used strings like a shoelace to lace up the front and bring the detail on the back up just above the hip, to form a deep v-cut. I usually have a thin-body silhouette in mind when designing Western-style clothes, and the swimsuit this time was no exception. The key this time was the opening on the back.
Kozue Anzai (hereafter Anzai) :​ ​The swimsuit features two types of mixed-color cords with the styling/ colors, although the cord is the same as the ones we use on the existing swimsuits; so the cord goes two ways. There's a cord for the large opening on the back detail, which I think gives the swimsuit a sexy and sporty look.


Anzai :​ ​This time, Kei coordinated a style for us using the mikomori swimsuit.
Shirahata :​ ​What I did is to combine mikomori's swimsuit with the city fashion of styling/. For our swimsuit collaboration, we matched the swimsuit with an eighties-style pair of pants. My first thought with this iffy-kind of pairing was, "does this match?", but this was actually the key to making it look fashionable. It might also be cute to match a setup jacket or boots with this.
Anzai :​ ​We design mikomori's swimsuits with an awareness of a 1960's or 1970's Paris vibe. When you coordinate with an eye toward the feeling and background of the period, I think you can get a combination that's a notch above the rest.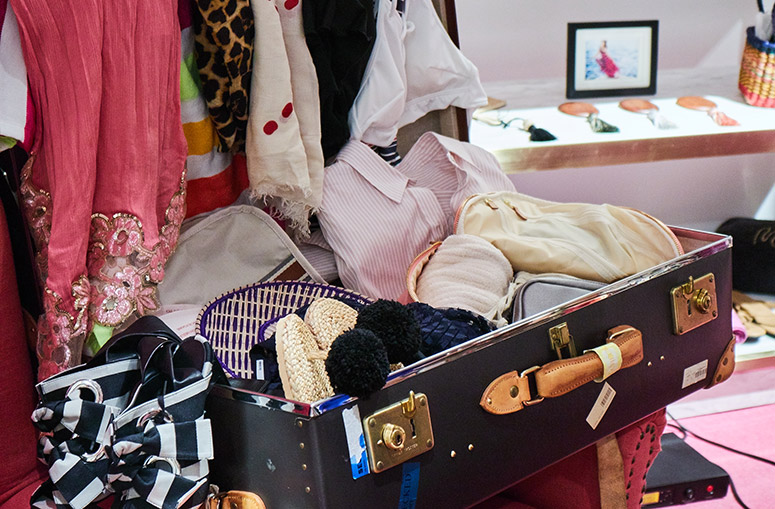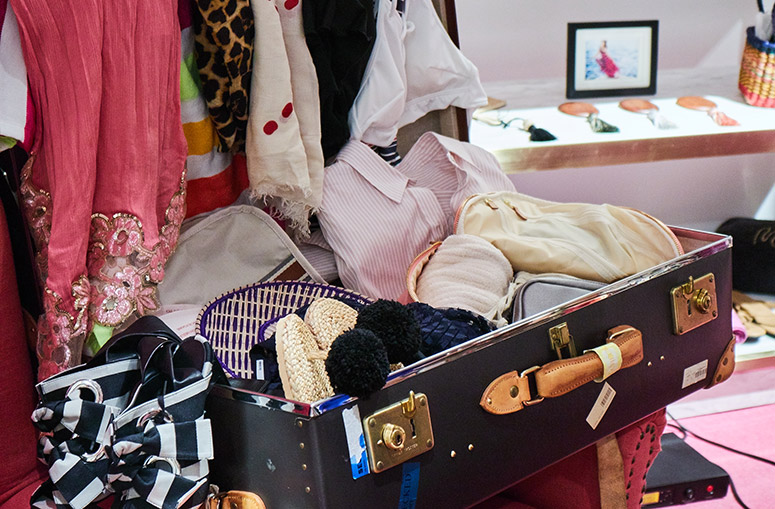 Shirahata :​ ​I'd like to give you some special information now about the set of mikomori clothes I always take with me to the resorts, out of all the the resort wear that's out there. I take a rather long stole, which is pretty convenient since it can be used in different ways. For instance, you can wear it at the swimming pool, use it to tie up your hair or wrap it around your pillow in your hotel room. I usually bring several stoles with me. Also, I make sure to bring candles, because wherever I go, I want the place to feel like my own space. Filling the hotel room with the scents I like makes me feel at home. Shirts are also surprisingly useful. Matching resort-style fashion with something that doesn't look like it belongs by the ocean at first glance gives a more fashionable look.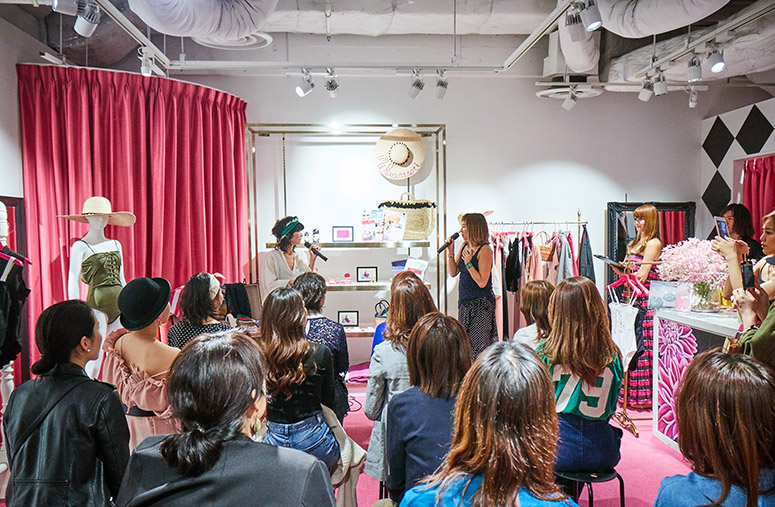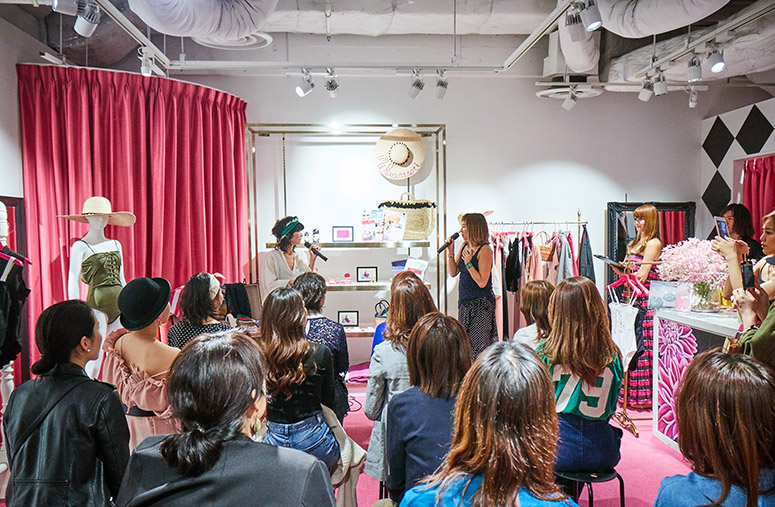 ---- We'd like to finish up this talk event with some questions from our customers. One of our customers asked, "When I go on a vacation overseas, I see a lot of foreigners who are dressed up for dinner. What should I do to look nice with a minimum of clothing and accessories?"
Shirahata :​ ​If you're going on an overseas trip and you can't take a lot of things, you might want to go with an off-the-shoulder dress that you can wear by the ocean as well as when going to dinner. Also, just having shoes with heels and a tiny bag that you can hardly fit anything into will give you a flashier look. It's also important to think about your hairstyle, the stole you wear, and other smaller articles of clothing and accessories. If you see someone you think looks fashionable, don't be ashamed of imitating them.
Anzai :​ ​Getting a tan is another thing to think about. If you're tan, you'll look healthy in dressy Western-style clothes and resort wear that shows off a lot of your skin. By the way, if you want a nice-looking tan, try applying sunscreen first and then put self-tanning lotion on top of that.
mikomori: Director's Profile
Kozue Anzai
スタイリストとしての活動の幅、交友関係は多岐にわたり、nano・universe×HEAD×COZとした新たなコラボ企画を今春に控え、自身がディレクションを務めるアパレルブランドmikomoriも更なる拡充に向け精力的に活動中。その他、渋谷の新たなランドマーク"TRUNK(HOTEL)"ではポップアップスペースのディレクションも担当している。枠に収まらないマルチな世界観で活動の幅を広げている。
styling/: Director's Profile
Kei Shirahata
Began work as a stylist in 1996. Shirahata's specialty is in highly sensitive styling that stems from her unique worldview. Shirahata has earned enthusiastic support from many actresses and models for her highly unexpected approach and ability to predict changes in the times. She is also active in many fields such as women's fashion magazines, advertisements, apparel brand catalogs and talk events.
>> Main Building B2F mikomori SHOP For more information click here

>> Main Building B1F styling/ SHOP For more information click here

>> "mikomori": The "Resort Wear Shop" for Adults: Created by Stylist Kozue Anzai
<Contact information>
Omotesando Hills (general information)
電話:03-3497-0310
http://www.omotesandohills.com/