As part of "DESIGNART TOKYO 2022", a design and art festival held throughout Tokyo, art works have also appeared in the large atrium staircase of OMOTESANDO HILLS. The design studio "UO" by Yu Matsuda and Yuichiro Tani worked on the production of this object named "OMOTESANDO REPLICA". Here, we interviewed the two members of UO about the meaning of this work, secret stories about its production, and how to enjoy viewing it.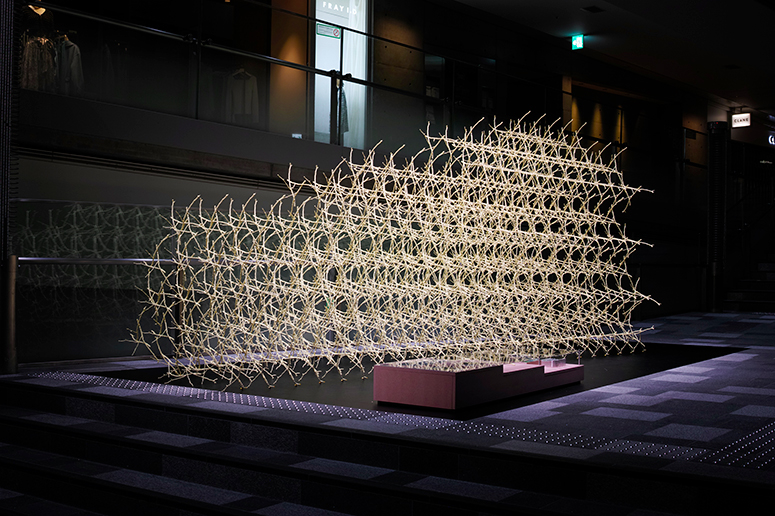 2000 replicas of one branch that had fallen along the zelkova trees were made into objects. What is that heart?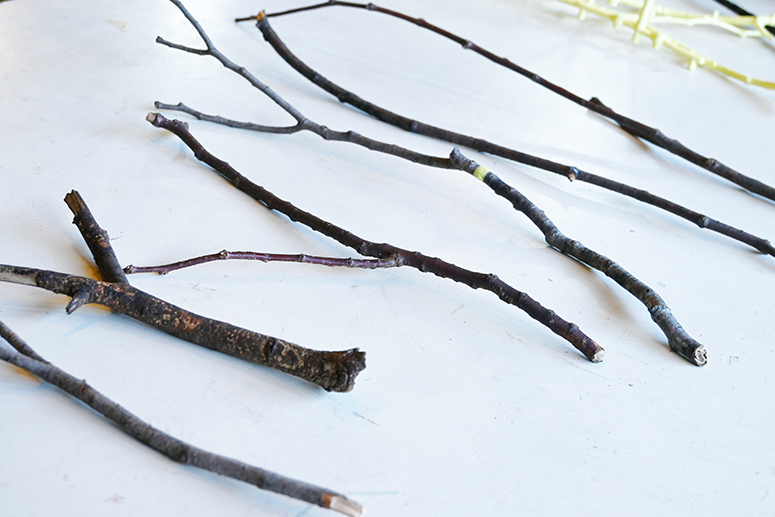 ---- "OMOTESANDO REPLICA", which is exhibited this time, is also attractive for its detailed structure. At first, viewers are wondering, "What is this?"
valley :はい。「OMOTESANDO REPLICA」の"オリジナル"となっているのは、表参道ヒルズの目の前を通るケヤキ並木で拾った1本の枝なんです。これを僕たちの拠点である静岡に持ち帰り、3Dスキャンで型をとってプラスチックに置き換えて、2000本にコピー。先端部分に凹凸をつけて、ブロック玩具のように無限に繋げられる仕様にしました。それを繋ぎ合わせたのが今回のオブジェです。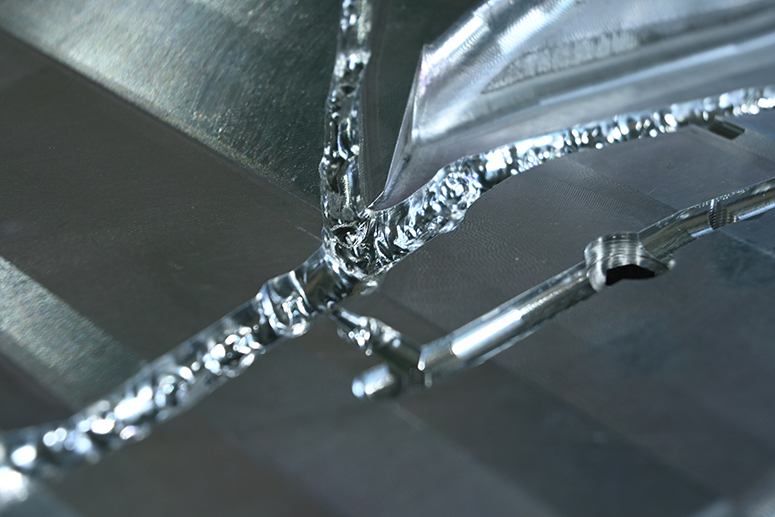 ---- Let's take a closer look at the process by which the idea was born. First of all, please tell us your thoughts at the start of this project.
Matsuda :My honest impression when I first received this offer was, "Can we create a work that will be exhibited in a large-scale place called OMOTESANDO HILLS?" The size of the space, the demographics of customers who visit for the purpose of various brands, and the scale is huge. That's why I was conscious that I had to create a work with "strength" in various senses that would endure it.
---- Why did you decide to incorporate the branches of the zelkova trees into your work?
Matsuda :When I reconsidered the city of Omotesando, I realized that while many sophisticated brands and architecture are asserting their principles, there is also the existence of a row of zelkova trees that harmonizes them. We may need to reconsider the elements that make up the city, including the seemingly unremarkable zelkova branches. I came up with the idea that it would be great if I could make a work that could pose such a "question".
valley :If you pay attention to a branch that has fallen, you can see that it is a product of chance created by space and time, with no other identical shapes. This town tends to attract attention for "big changes" such as the birth of new buildings and shops. However, a branch that has fallen on the sidewalk, a person who unconsciously avoids the branch. It is also a city where you can encounter something unique in the repetition of "small changes" while nature and people influence each other. This work aims to maximize the uniqueness that tends to be overlooked and give you a clear sense of it.
Before and after visiting OMOTESANDO HILLS, I want you to change how you perceive the zelkova trees.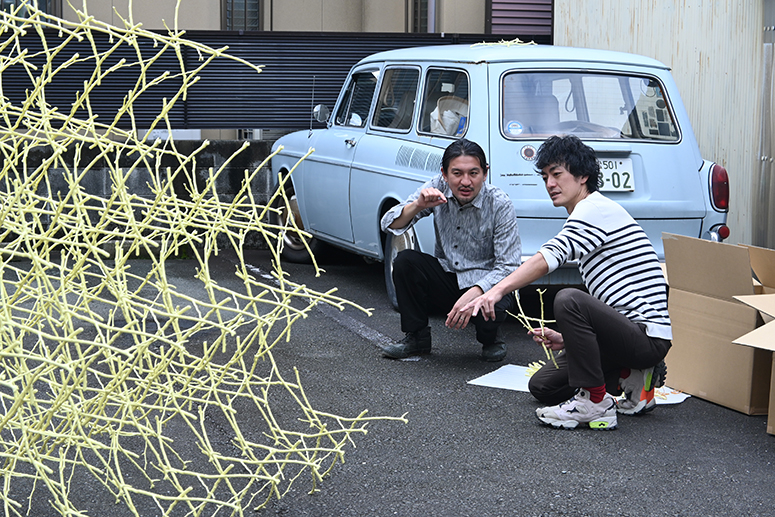 ---- How does it feel to look at the exhibited works again now that they have been completed?
Matsuda :As a result, the roadside branches are lit up at a place called OMOTESANDO HILLS, and I feel that the unevenness is also interesting.
valley :What we both have in common is that we find value in having a big effect with a simple move. In the sense that this work was also made from natural objects that had fallen only 60 meters from the exhibition site, I feel that we were able to approach it in our own way.

---- 作品を目的に訪れるお客様はもちろん、ショッピングや飲食を目的にご来館し、"偶然"に「OMOTESANDO REPLICA」を目にする方もいらっしゃいます。おすすめの鑑賞方法などがあれば教えてください。
Matsuda :Since it will be displayed on the large staircase in the atrium, visitors will be able to enjoy the work from various distances and angles while walking on the spiral slope. You can see them as a group from a distance, or you can get up close and see each branch individually. It is a work that can be received in different ways depending on how each person spends time in OMOTESANDO HILLS, so I would like you to enjoy such coincidence.
valley :Everyone who comes to OMOTESANDO HILLS should enter through the zelkova trees. I would be very happy if the view of the zelkova trees changed even a little before and after seeing this work.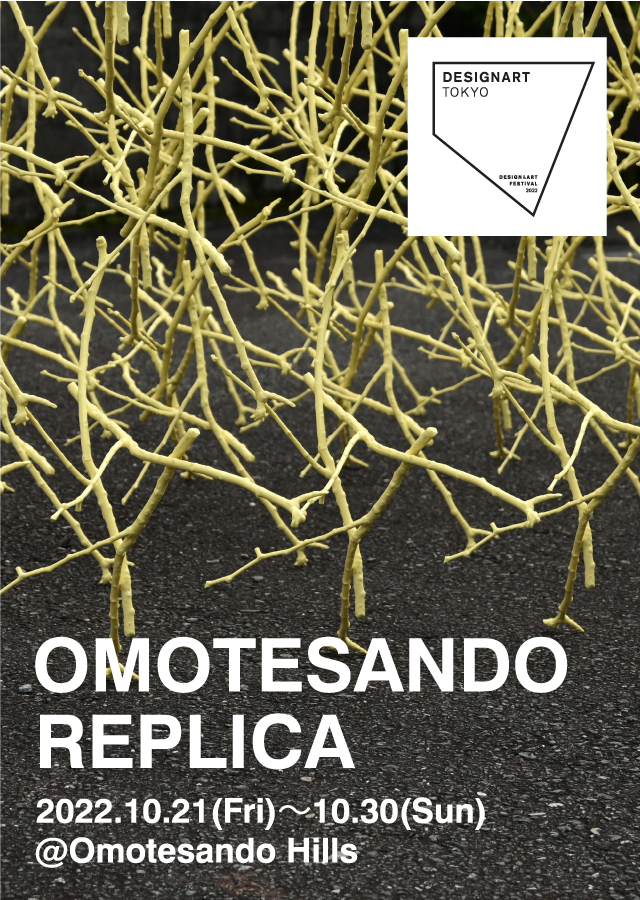 DESIGNART TOKYO 2022
Date: October 21 (Friday) to October 30 (Sunday), 2022
Area: Omotesando / Gaienmae / Shibuya / Harajuku / Roppongi / Hiroo / Ginza
Organizer: Designer Tokyo Executive Committee
〈ABOUT DESIGNART TOKYO〉
DESIGNART TOKYO is a design and art festival based on the concept of "INTO THE EMOTIONS ~Impressive Entrance~". With Tokyo as the stage, talents who lead a variety of genres such as interior design, art, fashion, technology, and food will gather from all over the world, and exhibitions will be held in various locations throughout the city. This event, where you can enjoy walking around the city while visiting each exhibition, is also characterized by many works that you can purchase on the spot if you like it. We will turn the entire city into a museum, connecting irreplaceable encounters and emotions.
This year, the sixth year since the event was held in 2017, the theme is "TOGETHER -Fusion of curiosity-", and as an international event, we will transmit various designs and arts from Tokyo to the world.
HPhttps://www.facebook.com/designart.jp
Instagramhttps://www.instagram.com/DESIGNART_TOKYO/