This Christmas, Omotesando Hills presents the "Aurora in the City," a work of Christmas illumination. The work features around a "curtain of light" consisting of around 6,000 icicles suspended throughout the entire ceiling space over the large atrium stairway, a feature that is characteristic of Omotesando Hills. The exhibit also offers a special light show every 20 minutes, where onlookers can view an aurora within the "curtain of light," ushering them into a world of magical fantasy.
The designer of this work is the "KEIKO+MANABU" team, a creative team based in Seattle and Tokyo that works under the concept of "designing everything from pierced earrings to metropolitan plans and space development." Inspired by the beauty of the winter skies of the Northern countries, the team used unique materials that are also used in keeping birds away to create their work from the perspective of both art and architecture, spanning the space of the entire atrium.
Making use of the beauty, fascination and artistic elements found in their materials, the two artists shared their thoughts with us regarding the production of the unique space they have created this time.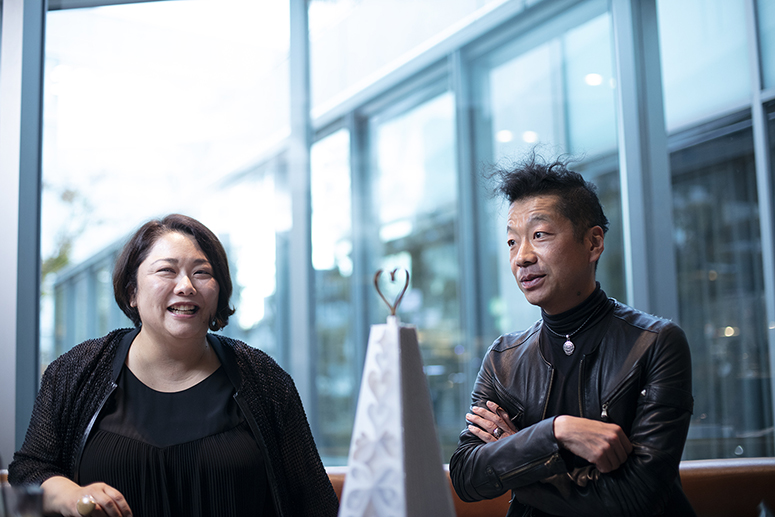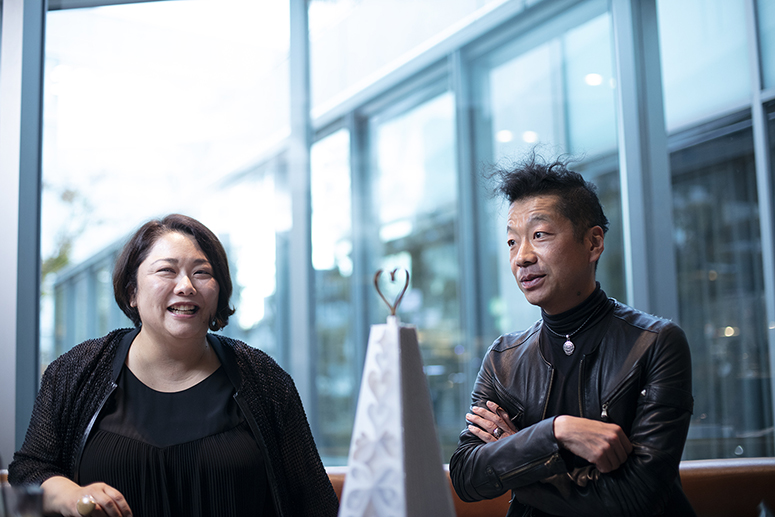 —We understand that both of you are working both in Seattle and in Tokyo. Could you tell us about why you decided to become architects and designers?​ ​
KEIKO:I was born in the U.S. and went back and forth between Japan and the U.S. in my early childhood, and was also in Alaska during high school. Each time I traveled, I strongly felt a certain linguistic handicap. It was at that time that I also felt that communicating my feelings by creating expressive spaces and things was the best means of communication. Based on this, I decided to get into architectural design, and began my study of architecture at a university.
MANABU:My earliest memory was in April, in the year 1972 when I turned two years old. My mother was pregnant with my younger sister, and we went to see the house my uncle was in the middle of designing for us. The construction site was great fun—it was like being at a jungle gym. I was running around like wild; and eventually when we had to go home, I was going down the stairs and noticed that there were two or three steps that had not yet been built, which stopped me from going down. I was so scared. My father held his hand out to help me get down. The memory of his outstretched hand is still vivid in my mind, and it is part of my original memories along with architecture.​ ​
—How do you divide the work between you when creating something?
MANABU:​ ​My first instinct is to spark the idea. That is often not enough, though, so Keiko provides the "thumping beat" that gets the project off to a rumbling start. I quietly watch the progress, and make suggestions on the details to finish up the work. It's like Keiko is the main ingredient, and I add the spice.
KEIKO:To be more specific, we often work in places we've never visited before, so the first thing we do is go to the location to have a look. We want to take a good look at what kind of environment and people we'll be working with, and what kind of time slots these people are active in. We also look at how the sunlight changes. Having done that, we make various suggestions about trying this and that, while listening to what the person requesting the work, what the client wants.
MANABU:The underground atrium space of Omotesando Hills was designed by architect Tadao Ando, who worked hard to gather information on historical places that continue from the times of the Dojunkai apartments. My hope is that our work pays homage to this place.​ ​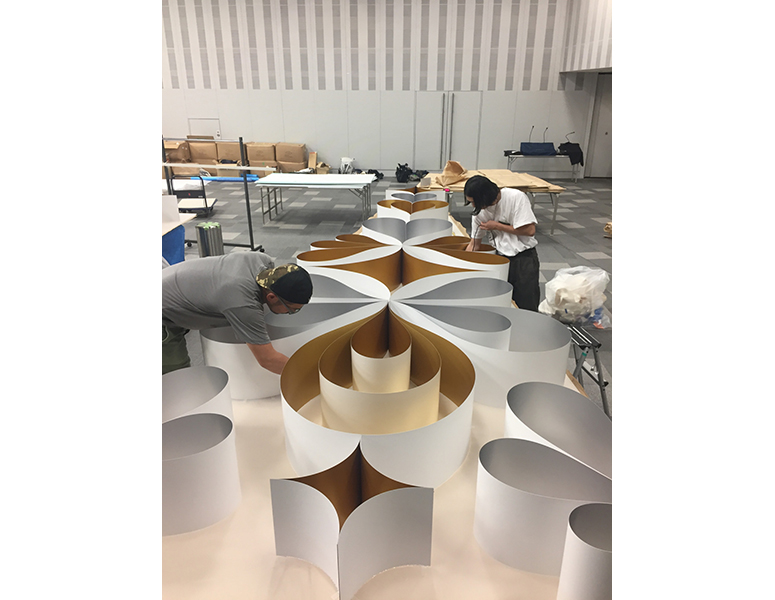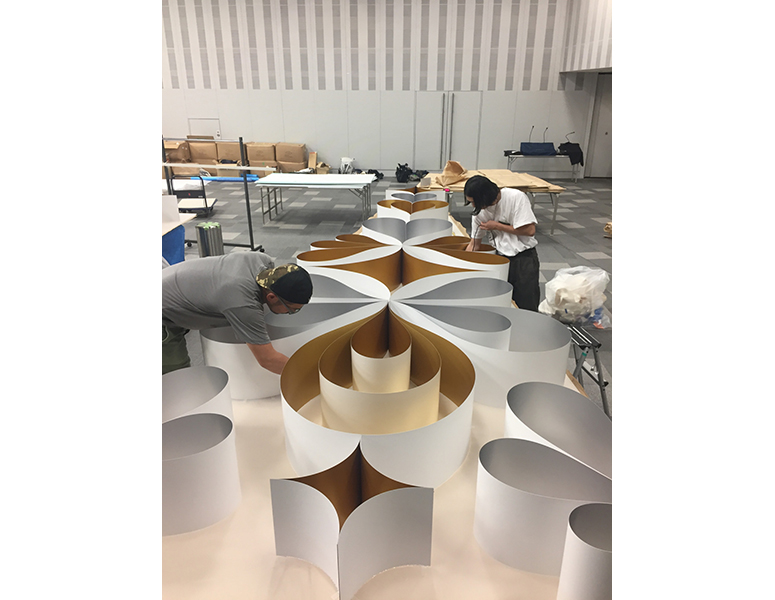 —What was the first image that came to mind when you took an actual look at the site?
KEIKO:There are a lot of vantage points to look from here. The large atrium stairway space is wide, and there is a significant difference in height between the B3 and 3rd floors. Walking around the site, there's the perspective of looking from outside the building and walking in; the perspective of looking upwards from the bottom of the stairway; the perspective from the escalator; the perspective from the sloped areas and so on. I gave a lot of thought to how we could get people to really enjoy what they see when I made the plan.
MANABU:Thinking about Christmas illumination, we talked about how the country up north looks so beautiful in the wintertime. Keiko is from Alaska and I was born in Morioka of Iwate prefecture, and both of these places are enveloped in silvery white in the wintertime. When the sun comes out from time to time the icicles start to melt and create glistening drops of flowing water. It's a beautiful sight you really won't find in Tokyo. This is what I wanted to show our visitors, and this feeling was at the heart of our project.
—We hear that the design of this exhibit drew inspiration from the beauty of the skies of the northern country.
KEIKO:There was a lake called Swan Lake near the house where I lived in Alaska. Our backyard was adjoined to the lake, and I saw an aurora once when I was playing with my friends in the neighborhood. I can recall how this aurora was drifting in the air like a giant curtain as it changed shape, and how it seemed to envelop me. This is one of the most impressive scenes I've ever witnessed.
MANABU:We also had a "swan lake" in Morioka, about a three-minute walk from my house. It was called "Takamatsu-no-ike" (laughs). In the winter, thousands of swans would come to visit this lake. With the snow-covered Mt. Iwate as a backdrop, powder snow comes gently floating over the mountains after its moisture is drained out over the Sea of Japan, and the temperatures get down past –10ºC, which practically freezes every breath you let out. That was the world of snow that I had imagined.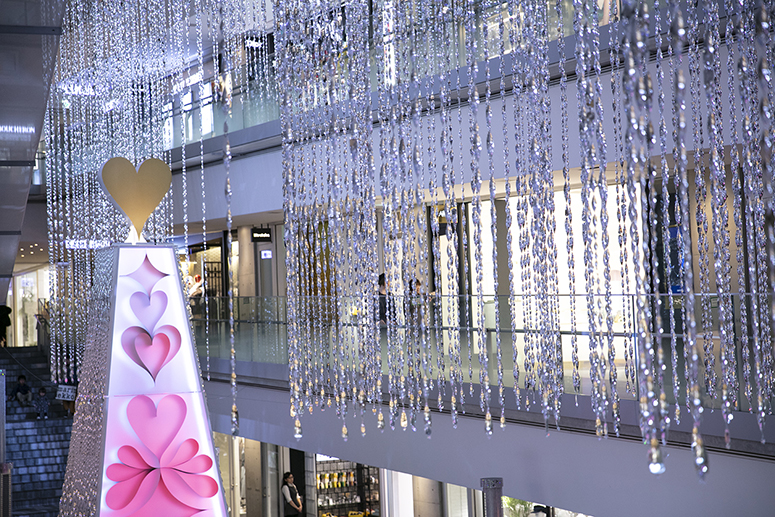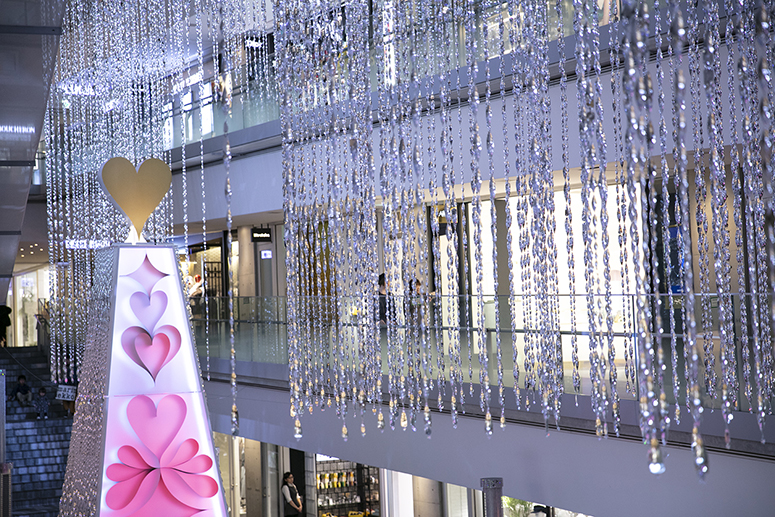 —What was the thing that you paid the closest attention to when creating this fantastic world of 6,000 sparkly icicles?
KEIKO:​ ​It was the idea to make them keep swaying. The spiral-shaped bird repellent spikes we used for the icicles are made of chrome plating, and twirl when they catch the wind. The thing is, when you join 70 cm-long spikes together, they're too heavy and don't twirl at all. The first time we tested them, they didn't twirl. The person in charge at Omotesando Hills had this look on their face like "uhhh, this isn't going to work…" (laughs).
MANABU:​ ​Yes, I definitely felt that wasn't going to work out. We tried synthetic fiber thread, leveling string, plastic fastener bands and industrial rubber. As a team, we desperately brainstormed what materials we could join the icicles together with and still make them twirl around, considering the work efficiency of the installation team. We went to the hardware store and spent half a day milling around, and ended up going to a fishing goods store. When you're fishing, the thing you hate the most is when your line gets tangled. Fishing line is stretchable and can return to its original shape. We realized that once the line starts moving, it will begin to twist and act like a spring to return to its previous shape, so we thought that this was the key to making the icicles keep twirling. So, we went back to our atelier, and experimented with different fishing line, lengths and ways of connecting them, blowing the lines with wind from a fan. After studying the problem some more, and based on the strength of the line, we decided to connect the icicles with two strands of line.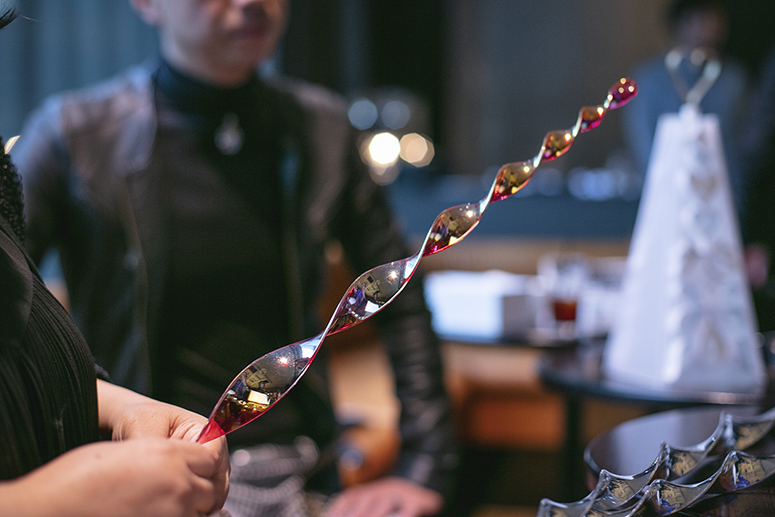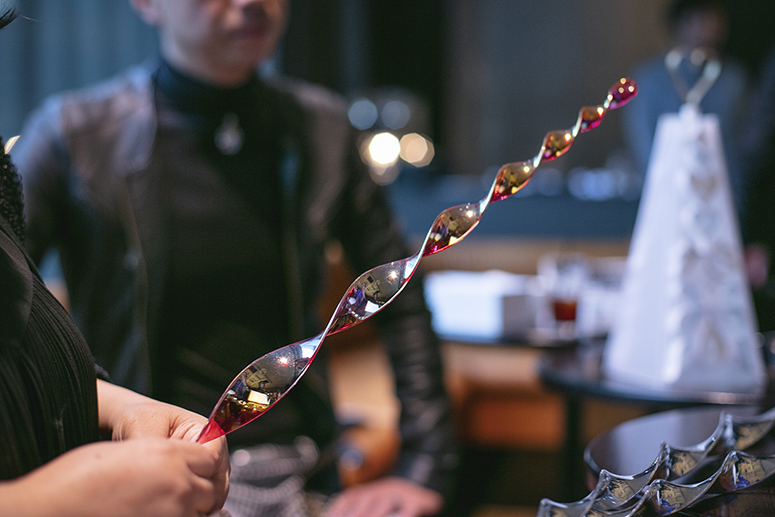 —What led you to finding these unique materials?
KEIKO:We found this material by looking for something that would let us hang things down as decorations in a shop during the summer in a cool way. Everyone got curious and gathered around to see it, as it was reflective and sparkled as it swayed. Normally, this material is used to keep birds away… but it's interesting how we used this to do the opposite, attracting people to come see. I thought then that we could use a lot of these to create some kind of exhibit space.
MANABU:​ ​The shape itself is very similar to a mathematical model, and the way it continues to move in a fluid way is inherent in its design.
—Is there something you want people to be sure to experience?
KEIKO:A lot of people take photos of our work and post them on Instagram. I've discovered many things myself by looking at these. Naturally, I'm giving my attention to making it look interesting from whatever angle you look; but actually it's the photos people take that surprise me.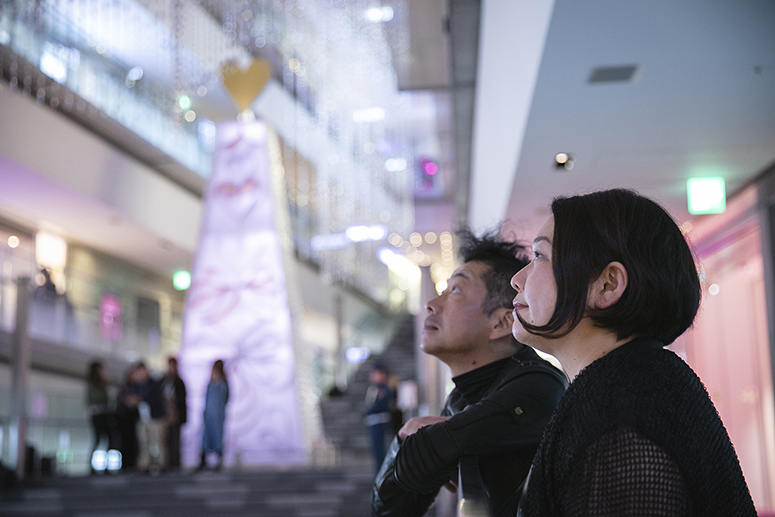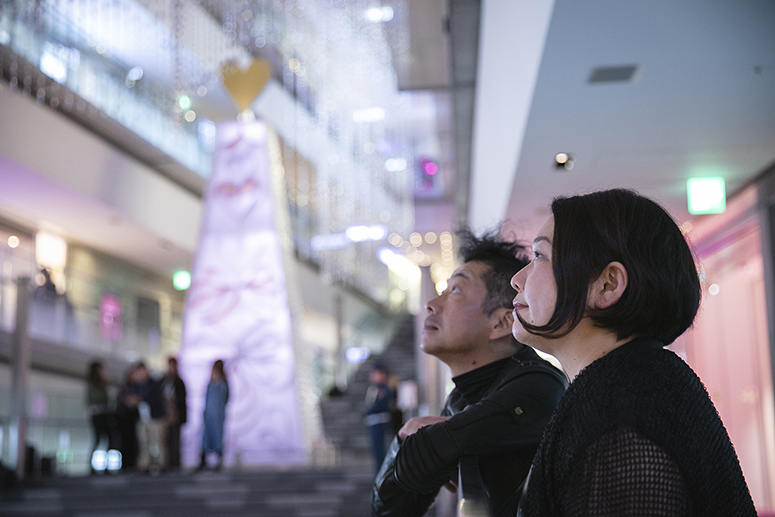 —Viewers will notice the hearts and diamonds used as motifs in this installation.​ ​
MANABU:Yes, hearts and diamonds are a motif we've been using for over a decade now. We have contact with people from overseas at different locations, and sometimes feel a sense of isolation and disconnection in terms of language. My hope is that we can share these kinds of motifs that are common throughout the world between people to more directly express our feelings, and that these motifs will transcend all known boundaries, whether they be nationality, age or gender.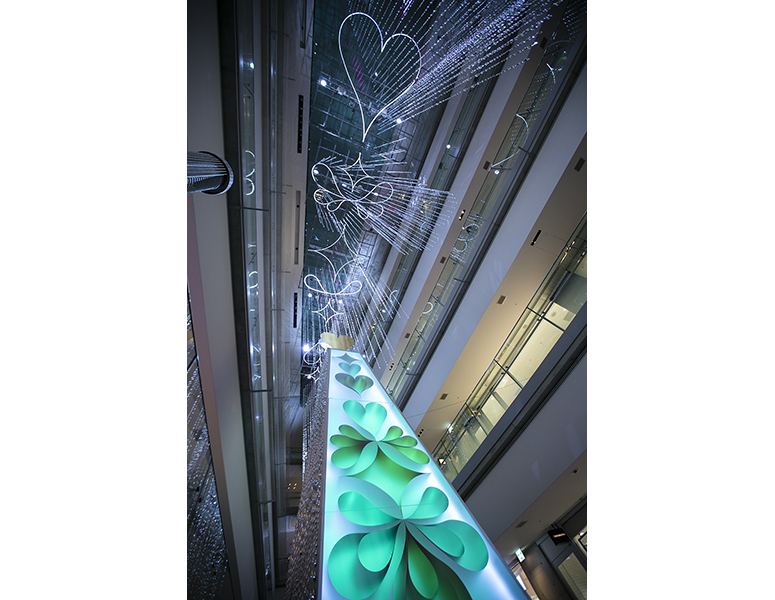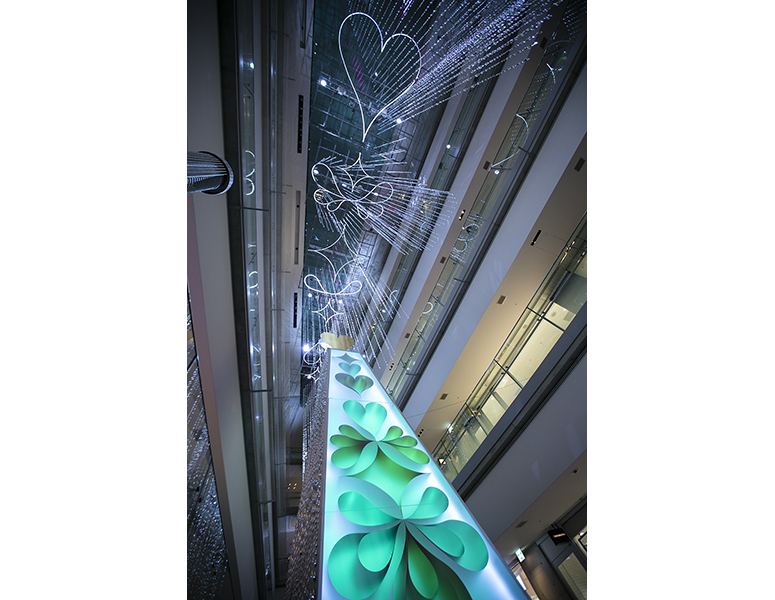 —Both of you are directing the special light and sound show that occurs every 20 minutes in this production.
KEIKO:This is the first time that I've participated in a space production where we had someone create the lighting and music. It was quite a stimulating experience to work together with pros of different genres. When we requested the music to be used, we asked for the male voice and the female voice parts to be balanced. If you were to interpret the mystery of the aurora in normal terms, you might want a clear-sounding female vocal part. However, I asked that the female part not stand out. I also asked them to "create a song that would stick with you" (laughs).
MANABU:We gave them some sounds of the beautiful songs of the Tlingit people of Alaska. They transformed the sounds into a "do-re-mi" scale and added "r" sounds to the vowels to create a "ro-re-ra-ri-ru-re" scale. When you hum it, you get the feeling you're singing a folk song of a different country, or perhaps the feeling of a mysterious other-worldly country that also happens to have a common global language. We hope that visitors will come down on the holy day of Christmas to take their time and enjoy our work, not only with their eyes, but by taking in the entire exhibit space with the light and sound.
Profile
KEIKO+MANABU
The KEIKO+MANABU (pronounced "Keiko-plus-Manabu") team is led by Keiko Uchiyama and Manabu Sawase, a creative team based out of Seattle and Tokyo. Under the concept of "designing everything from pierced earrings to metropolitan plans and space development," the team crosses over to work in a range of fields including commercial space, urban planning, art, education and so on, with architecture at the foundation. In recent years, the team has participated in an even wider range of activities, including consulting for new and diversifying businesses. They are serving as instructors at Musashino Art University and at Kogakuin University, and also work to support graduate planning in courses throughout the year at the Kuwasawa Design School. The team has won numerous awards both in and out of Japan, including the JCD Design Gold Award, FRAME Moooi Award Finalist and more.
www.keikomanabu.com